Cross-Country: What's New?
New year, new season, new coaches, and new runners. After the graduation of several strong seniors, and the retirement of the long-time cross-country coach, it was highly anticipated how this season would go. Who would replace these strong runners? Would a new coach be able to fill the huge shoes left behind?
The 2018 cross-country season has been filled with all things new. This season Seward hosted the biggest home meet in years with a total of 267 runners and fifteen schools across four races — compared to a total of 101 runners and seven teams at the 2017 Frank Dieckgraeff Invite. Hosting such a big meet boosted morale as Seward runners were used to "no one showing up to our home meets"  explained junior Ally Chryss. This also allowed Seward runners a chance to shine with three placing in the top ten.
The void left by former runners has been filled by some surprise performances. One is sophomore Levi Deboard, who "only ran with [his] parents over the summer" and simply joined cross-country "to try something new, and escape wrestling." In no way did he expect to be a member of the varsity team. Deboard's goals are simply to have fun and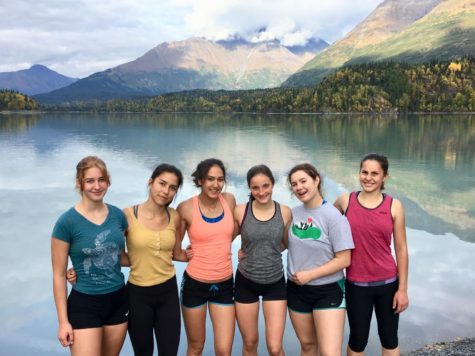 avoid injury.
Freshman Gaia Casagranda has also emerged as a very strong runner. She is nowhere near new to running. Gaia spent her summer training, and went on trail runs just for fun. In comparison to her middle school cross-country career, she states, "I'm definitely being pushed harder and putting more effort into my running." Gaia has had multiple top ten finishes. She was a favorite to qualify at regions; however, an unfortunate injury cut her season short.
Perhaps, the most anticipated factor of the 2018 cross-country season was coaching. Aaron Sorenson, Seward High School alumnus, has been a member of Seahawk athletics for years, so it was no surprise when Sorenson was hired as head coach. This year, Sorensen has implemented several changes, while still staying loyal to the program. One of these changes is a mandatory study hall after school to improve eligibility. His favorite part of coaching has been "watching an athlete push their limits and achieve their goals," and he has been impressed with each runner's ability to "let out a smile or a laugh while they are on the brink of collapsing."
The assistant coach position has been filled by Zach Cureton, new science teacher. Cureton has coached football, basketball, and lacrosse.. He only recently started running after moving to St. Mary's, Alaska. When he moved to Seward to teach, he "wanted to be involved in coaching, but didn't believe [he] was ready for a head coach position," therefore took the position as assistant coach.
Both coaches were hoping for strong races heading into regions and are excited for state. State qualifiers are sophomores Neil Lindquist and Max Pfeiffenberger.
"New" can be fresh and exciting, like this season's runners and races; however, with "new," comes inevitable mistakes and learning curves.This combination of all-time highs and learning from mistakes is necessary for Seward High cross-country to evolve and ensure future success.