October 7th, 2023, was an incredible day for Seward High School athletics. It started that afternoon at Palmer High School, with the girls' cross-country team taking a second consecutive state title, beating out Grace Christian School by 22 points. 
Star runner and senior Hailey Ingalls overcame injury to take the podium with ease, just falling short of Sitka's Clare Mullin and Marina Dill, but she was not the only Seahawk to impress.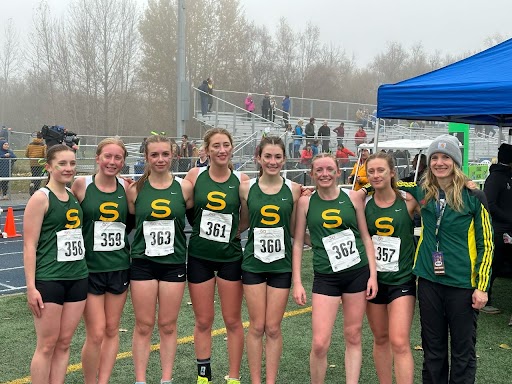 Freshman Selah Brueckner not only placed third at regions, but sixth at state, falling just 15 seconds short of the podium. In fact, out of the seven Seward girls who ran, six placed in the top thirteen (in addition to Ingalls and Brueckner: Juniper Ingalls – eighth, Katie van Buskirk – tenth, Maddie Haas – twelfth, and Indigo Leslie – thirteenth). 
These stirring results are similar to the regional meet held at home only a week prior, at which the same six girls all placed in the top eight, including a win from Ingalls.
"The season's been amazing," said Coach Rachel Dow. "I had a really great group of kids this year, who worked hard. We won regions, and winning state for a second time is really special." 
"I will very much miss running for Seward High School," lamented the graduating Ingalls. "It's been my favorite thing; I wouldn't have wanted to run for any other team." 
Graduating alongside Ingalls are Stella Dow and Trevor Guernsey. The three have run on the cross-country team all four years of high school. "Losing Trevor, Hailey, and Stella is just heartbreaking, but you've got to say goodbye. It's just part of it, but we're going to have new people coming in," said Coach Dow, who was also named 2023 Region III Coach of the Year. 
With the past two seasons going the way they have, we can only imagine what the next few have in store.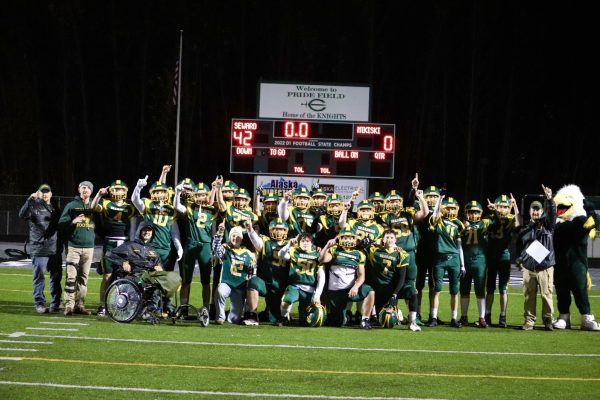 That evening, just down the road, under the lights at Colony High School, the Seahawk football team faced off against the Nikiski Bulldogs at the ASAA State Championship. This was their third game against Nikiski this season, but of the three, it was their best, beating the Dogs 42-0. 
Highlights included a beautiful 25-yard touchdown pass from quarterback Brett Gilmore to wide receiver Judah Brueckner. "I couldn't have asked for a better season. As a senior, this is the best way to go out, obviously. Undefeated state champions… that's pretty amazing," Brueckner said.
 Another highlight was a fourth-quarter 60-yard touchdown by running back Kupono Albino. This particular touchdown marked Albino's career 24th, twenty of which were scored this season alone. Additionally, Albino racked up 66 tackles and 1729 yards rushed over his high school career. After the game, he was presented with the title Offensive Player of the Year.
An undeniably impressive 7-0 season win/loss record and two victories over longtime fighting force Ben Eielson High School further mark this season as one to remember. 
"It's incredible. These kids have bought in, and it's cool to be part of Seward history," remarked head coach and 2023 Denali Conference Coach of the Year Tyler Mallory. "We've got some seniors going away, and that hurts, but we've got kids that are ready to step up and take over for them. And we're just going to keep building and keep working." 
Graduating with the class of 2024 are Judah Brueckner, Kupono Albino, Gideon Schrock, John Van Buskirk, Jerick Senecal, and manager Melanie Woodard. 
Not graduating, but still a notable team member, is Brazilian foreign exchange student Fernando Pagani. "Everyone was very receptive, very nice with me. It was cool. I went into the season not knowing anything about [the sport], and I came out of it a state champion, and loving American football." 
In all, it was a phenomenal weekend for the Seward Seahawks, filled with fierce competition and hard-earned victory.