Dasha and Kima: Poetry Masters
Dasha Kelly-Hamilton and Kima Hamilton are well known in the Seward community due to having run their poetry workshops at Seward High School and Middle School over the past years. Their most recent visit concluded on March 29th. Together, they lead powerful discussions with students ranging from poetry all the way to societal issues.
Every year brings a new workshop depending on your age and poetry experience. They start out in middle school teaching the art of poetry and continue sharing their love for the subject through classes and first hand experience.
In the sophomore workshop, we learned about how to make a poem with only your senses. We wrote about a day expressing what we saw, heard, smelt, felt, and tasted.
By senior year, students are expected to write a group poem. No matter how they teach it, Kima and Dasha will continue to inspire young poets to embrace their personalities.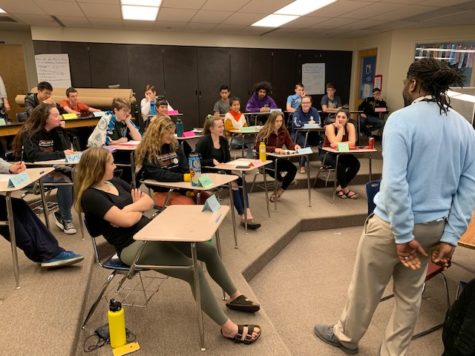 Anyone who wishes to share their poem can read it in the slam which occurs at the end of the poetry week. Dasha and Kima provide a warm inviting environment, but encourage you to escape your comfort zone. Kima, who also DJ's, plays music in between poems to keep the energy up, and eliminate the stress of a silent room. Last Friday, many of our students stepped up to the mic to share their poetry.
In the middle of the week, they took a break from the workshop to sit down for an interview conducted by our journalism class. Both stated they "love Seward High School." Kima has a nostalgic relationship to Seward due to him growing up in "dirt road Georgia." Dasha says she can "feel a sense of community" and that she is an "army brat," so she continued to move all of the time, and a place as welcoming as Seward is hard to find.
Kelly-Hamilton recalls when she was first introduced to performance poetry. "It wasn't until [she] was an adult when someone took [her] to an open mic." Here, she realized poetry wasn't just what she had been taught in school. Listening to the poets reminded her that "we're all in this place together..," and everyone has a story. Through her workshops, she hopes to inspire students to have such realizations.
Thank you to all the sponsors and people who made it possible for Seward High School to have this amazing experience.
Artists in Schools sponsored by Bunnell Street Arts Center, Seward Community Foundation, and Seward Arts Council.

Bunnell Street Arts Center sponsors Artists in Schools with support from the Alaska State Council on the Arts, Rasmussen Foundation, and Ulmer's Drug and Hardware.