Spanos Signs with SWOCC!!!!
On Wednesday, April 22nd, Connor Spanos, Seward High School athletic star, signed his letter of intent to swim for Southwestern Oregon Community College.  Virtually surrounded by his coaches, family, and friends, Spanos officialized the commitment on a Zoom call last week. 
After swimming competitively for ten years, in the fall of his junior year, Spanos decided to further his dedication to the sport. 
"Swimming has always been my favorite sport," he admits.  "Winning regions gave me confidence… I knew I was improving, and wanted to continue."  Another region win in the 100 yard fly and second place finish in the 50 free his senior season finalized his decision to pursue collegiate swimming.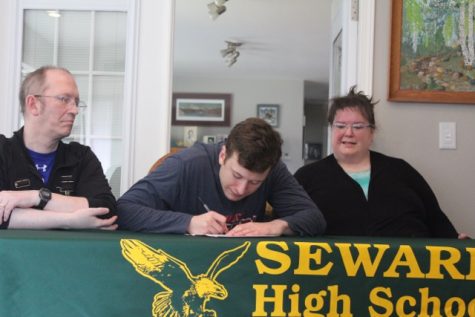 He is one of only a handful of swimmers to further their athletic ambitions out of Seward High School, and one of an even smaller pool of boys.  Spanos says that is a major part of what makes his commitment so special.
At his signing, basketball coach Al Plan praised Spanos's uncommon work ethic.
"When other people weren't in the locker room, on the court, or in the pool, he was.  The result of that hard work is showing here today as he signs to further his athletics," Plan states. "He is always here.  He is always working hard.  I think that is something we should celebrate."
Principal Trevan Walker elaborates on Plan's words, saying, "He is yet another living example of the award which comes with commitment and dedication…amazing kids like Connor make Seward High look good on a lot of different levels." 
Spanos confirms their assertions, saying, "Swimming has helped make me who I am today.…I am not sure how it will affect me in the future, but I know it will be good."
Contemplating many colleges throughout his senior year, several major factors secured his decision to attend SWOCC in the fall.
"It's nice to have friends there already.…One of them put in a good word for me with the coach. When I met her, I knew that was where I wanted to go," Spanos says.  "I also like that they are such a competitive school," he adds, alluding to SWOCC men's 4th place finish at community college nationals last year.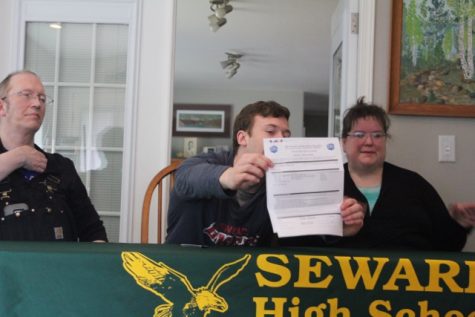 Although Spanos's long awaited signing was far from normal, it was a success.  Rather than his friends and family surrounding him in person, the event took place on a Zoom call where a large number of supporters joined to cheer him on.  With his mother and father on either side of him, Spanos signed his letter of intent from the comfort of his home.  Although unusual, there is no doubt that it will be an event to remember.
"He is going to thrive with the new competition and team.  It will be fun to see where this chapter of his life leads." noted swim coach Meghan O'Leary 
As he leaps into the next part of his life, his supporters at home will be forever cheering on his endeavors.  He is an amazing asset to the community and will be sorely missed. SWOCC could not have gained a more dedicated, hard working individual.