Great OJT Opportunity: Part Two
Along with my great OJT opportunity, my good friend Neil got to earn a credit as well while working on a fishing boat. He went and got his classes squared away with the counselor, and after that was taken care of, he booked his ticket for Newport. For the next few weeks, he got to live on the coast of Oregon and work on rigging black cod pots.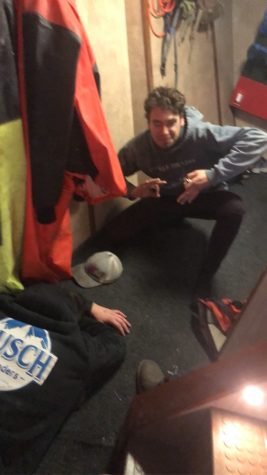 Neil was able to go experience somewhere new outside of our small hometown of Seward. On top of that, he was learning a bunch of new skills that he will use for the rest of his life–like knot tying, splicing, and basic nautical skills. While he was there, he also got to take part in building a brand new multi-million dollar boat.
Once they made the seven day journey back to Alaska, they docked, went to the grocery store, and then ran around town getting the last of their things. Before we knew it, I was helping them toss lines and watched as they slowly motored out of the harbor. Neil described that first trip as "brutal." It was a learning experience for the whole crew, and they were having to haul gear in bad weather almost the whole time. This adds another level of difficulty to something that's already tough enough as it is.
Later on as the season progressed, Neil told me it became a rinse/wash/repeat process and everyone was able to get in a rhythm. Once the season was all wrapped up, I asked him what he thought about his experience on the F/V Majestik. He described it as some of the hardest work he has ever done and probably will ever do. But along the way, he met some new friends, gained a ton of knowledge, and got to witness some incredible things.