Carter Lake My Favorite Trail
     Carter Lake is a beautiful lake nestled in the mountains near the picturesque town of Moose Pass. This location is accessible year round by foot and in the winter by snowmobiles, skis, hiking, and snowshoes. It is a shorter trail, being only 3.7 miles roundtrip. 
     It is an enjoyable trek in the summer. I have hiked in the winter and it is quite fun, but it is good to wait a few days after storm systems for snowmobiles to pack a trail to avoid postholing up to your waist in some instances.
     Carter Lake has angling opportunities year round. In the summer, the best methods are using a spinning rod and your favorite trout tackle. In winter, ice fishing is commonplace using an ice auger, pole, and jigs. Before doing any fishing, be sure to refer to current trout regulations for that area.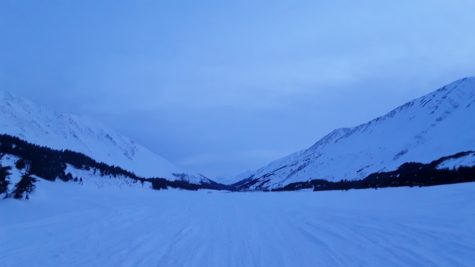 Moreover, Carter Lake is an awesome place to sled and one of my personal favorites. The trail up to Carter Lake can be treacherous via snowmachine, but most people can make it up without too much trouble. The trail is whooped out nearly all season and can become very icy making it difficult for even the most experienced riders; however, a big crew can make it up in the worst conditions because you can push the snowmobile up the treacherous spots.