Ski Doo 2023 Gen 5
     Ski Doo introduced the highly anticipated Gen5 Summits that will have a plethora of improvements. 
     Ski Doo engineers did an excellent job of cutting 16 pounds versus the Gen4 in certain configurations. They introduced the Powdermax X light track that is four pounds lighter than the predecessor. Tmotion has been upgraded with a lighter and longer traveling tmotion X with an additional inch of travel. Ski Doo narrowed the chassis and panels up three inches making technical sidehilling even easier. The running boards have undergone a redesign with Ski Doo's best snow evacuation to date.
     Some exquisite tech was introduced including a 10.25-inch color touchscreen display. The dash is compatible with BRP connect that will be neat if you want to use some of your phone apps on your snowmobile. Ski Doo also came out with some super slick LED headlights.
     Upgrading all major areas looks to be the name of the game this year with an innovative CVT cooling system for longer belt life. A redesign to the chaincase that makes changing tracks a breeze due to the new sealing of the top and bottom gear that lets you pull the driver without having to open up the chaincase. A fourth engine mount was added for better belt life. 
     I am extremely excited to see these phenomenal sleds hit the snow next season. I love most of the new upgrades; however, I am leery of the touch screen display due to most electronics in my experience working atrociously in the snow. I am particularly on the edge of my seat about the CVT cooling system, and I hope it improves belt life.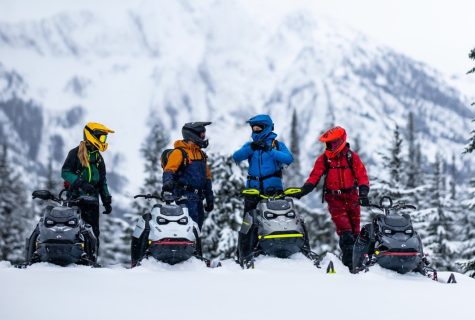 Photo Credits
https://sledmagazine.com/rev-gen5-ski-doo-new-mountain-snowmobile-platform/
https://www.ski-doo.com/us/en/
https://sleddermag.com/2023-ski-doo-snowmobiles/ski-my23-free-850e-tecturbo-timelessblackspartanred-action-53098-rgb/