Going Big- Green and Gold Style
With all the intense basketball games to come, our Seward High cheerleaders have been preparing to excite the crowd. Currently the team holds nine talented girls, which gives them more opportunities with creating stunts and routines. The squad is very excited to perform all these for the audience and basketball players. In fact, the majority of these girls spent three to four hours each day over winter break at practice specifically to perfect all of the stunts and cheers. However, this wouldn't have been possible without their fantastic coach who helped put in those extra hours.
This may be the first year for coach Haley Hatch, but Seward Seahawk cheering is very familiar to her. For the three past seasons, Hatch volunteered when she could to assist the previous coach; therefore, she seems like the perfect person to take this position. Along with this, Haley graduated from Seward High in 2006. In the trophy case you can see her with three other cheerleaders; the team of four won state her senior year. The whole team is very grateful to call her coach.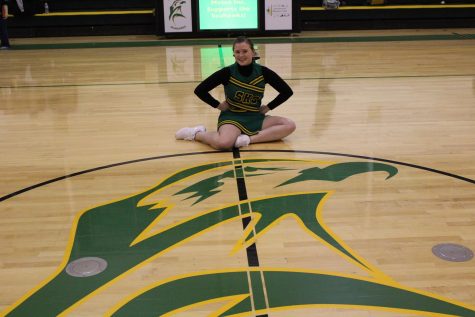 In addition, senior Kimberly Hubbard has been leading the team herself. This year marks her fourth and last year in cheerleading. Her biggest hope for the team is to "be better than before". Whether the cheer team wins a trophy or not, beating their personal best is always a victory. Making it to state again is a tough battle, but Kimberly hopes the girls can keep their positive attitude through it. In her perspective, cheering on the court is the best part of her whole experience. She can't deny the excitement of stunting, but "showing support for the [basketball] team" is what makes her a true cheerleader. Along with supporting the players, she's always there for her teammates. When Kimberly was a freshman, her cheer squad "wasn't considered a team" by the lack of bonding between each girl. She's happy to say this squad is much different. "Yes we fight and bicker- but isn't that what families do? [These girls] are my family." This family includes: juniors Kendyl Morris and Makayla Dumars; sophomores Grace Dumars, Emilia Whitcome, and Jazmaine Dehus; and freshmen Madison Athey, Katelynn Correa, and Callie Tomlinson.
With less than a month left until their first competition, the girls are pushing themselves everyday. Their hard work pays off during halftime when the cheer team gets to perform for the school. Being a part of the school spirit is what the cheerleaders are all about. With that said, these girls encourage anybody to join them at home games and cheer on the basketball players to victory.