Drama, Debate, Forensics, and State
From February 13th to 15th, the Seward Drama, Debate, and Forensics team traveled to Thunder Mountain High School in Juneau in order to compete in a variety of events at State. 
This year's team consisted of senior Lindy Guernsey, juniors Tegan Retzer, Emmalee DeLand, and Kylie Mullaly, and freshman Aly Guernsey. Aly Guernsey, DeLand, and Retzer competed in dramatic events while Lindy Guernsey and Mullaly competed in speaking events."We had a late start." Retzer recalls. "We didn't get to compete in a lot of meets and we had a new couch who had to adjust. " Regardless, the team still portrayed their incredible skills in Juneau this year. 
Junior Tegan Retzer competed in Dramatic Interpretation, where she performed a ten-minute piece called Delaila in which a woman struggles with multiple personalities. Though Retzer did not get nearly as many opportunities to perform over the season, she still impressed her audience. Each contestant must present their piece three times over the course of the state tournament. With each round, Retzer felt her performance improved. Though Retzer has competed in debate, drama, and forensic events over her three years of DDF participation, she says that Dramatic interpretation is the "one I enjoy the most. It's the event where I really connect with the most people."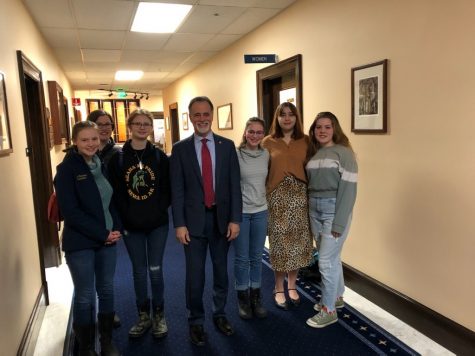 Emmalee DeLand, who has been on the team for the past two years, competed alongside Aly Guernsey in a Duet. In their act, they play Ophelia and Juliet, who are suffering with some anger issues in the afterlife. "Getting to act insane," DeLand says, "that was fun". Their hilarious piece perfectly showcased their talents over the course of their three performances. DeLand felt that she was "definitely better than last year". Though she sticks to the dramatic events, DeLand shines when it comes to making friends with the other contestants. In fact, when asked what the highlight of their season was, DeLand and Guernsey both recalled "all the friends we made, that was really cool."
Aly Guernsey also competed in Humorous Interpretation, where she performed the piece "Shitatke Mushrooms" about a less-than-stable man going on a shopping trip. After performing each piece three times at state, Guernsey did not move on to finals. "I feel that I did well for the amount of time I practiced my pieces," said Guernsey. "I can't wait until next year to see how much better I can do."
Lindy Guernsey has been a member of the DDF team all four years of high school. While Guernsey has participated in debate, acting, and other events, this year, she competed in Original Oratory, where she wrote a speech on balancing the internet and the real world. Guernsey also competed in Domestic Extemporaneous Speaking, where a random topic relevant to US policy or politics was selected and thirty minutes later she had to present a speech on it. "I felt good about my events" says Guernsey. " I have definitely improved my speaking in my four years of DDF. I didn't break finals in any of them at state, but, for me, that was never the point. I view it as just choosing things I'll enjoy making a speech on and doing it." Guernsey has had plenty of incredible experiences throughout her years on DDF from introducing a bill in Congress Debate to visiting the state capitol.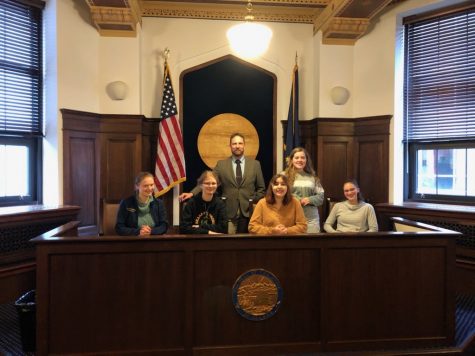 The DDF team also got to enjoy the beauty of Juneau while visiting. Though they spent the majority of their time in the high school, they seized the opportunity to visit our state's Capital Building, where they met Senator Micciche and Representative Carpenter. They gave the DDF team a tour of the building and gave brief explanations of Alaskan politics, encouraging the students to advocate for changes they want made in the state by using the voice they have been given. Alaskans are fortunate to be able to communicate so openly with their leaders, a quality not seen in other states. Additionally, the DDF team explored some of downtown Juneau, though they only captured a small peek into the community before having to return to the competition. 
While this year's team feels they did not have nearly enough time to be as prepared for competition as their peers, next year Seward can hopefully have a successful team. With Emmalee and Aly's humorous timing, Retzer's dedication to her role, and Lindy's vast intellect, they are certainly an accomplished group. Next year, Seward High can expect to have a prepared, practiced, and professional team ready to dominate their events.