Seward High Outdoor Club had the sun shining on them Wednesday afternoon as they glided through the waters of Resurrection Bay. Thanks to the owners of Kayak Adventures, Trenton Gould and Tess Tulley, Seward High students were able to experience kayaking at an extremely generous rate.
Seventy degree weather and smooth seas were on our side. We set out paddling from Lowell Point at 6 pm after thorough technical and safety instructions from our guides, Josh and Alex. The sun was beaming down on us and our brightly colored kayaks easily cut through the water. A sea lion soon popped up in the middle of our pod of kayaks, eliciting squeals of surprise from the boaters.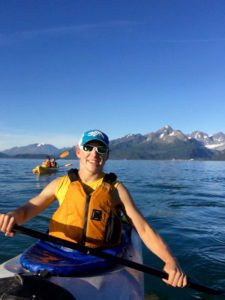 We cruised past Tonsina and approached Waterfall Beach when a seal appeared, studying us from a distance. Eagles flew overhead and stared at us from tall trees on shore. We aimed our kayaks straight for the beach and power-stroked up onto the rocks.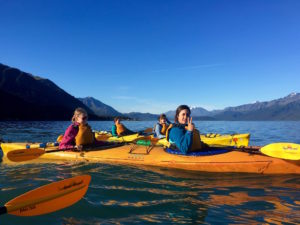 We took a short walk through the trees to beautiful Bridal Veil Waterfall. Then we had a little rest on the beach and ate some delicious snacks provided by Kayak Adventures. Paddling back to Lowell point as the sun lowered, we felt refreshed, content and improved in our kayaking skills.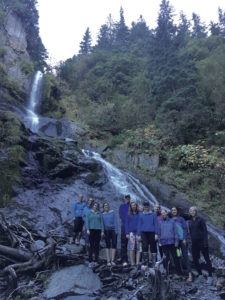 Thank you so much to Kayak Adventures for this opportunity! Thanks to Buddy North for telling Trent about the new Outdoor Club at Seward High. Thanks to Trent and Tess for offering us this trip at such an affordable rate so local kids could get out on the water. Thanks to our terrific guides Josh White and Alexandra Metter.