Football: The Aftermath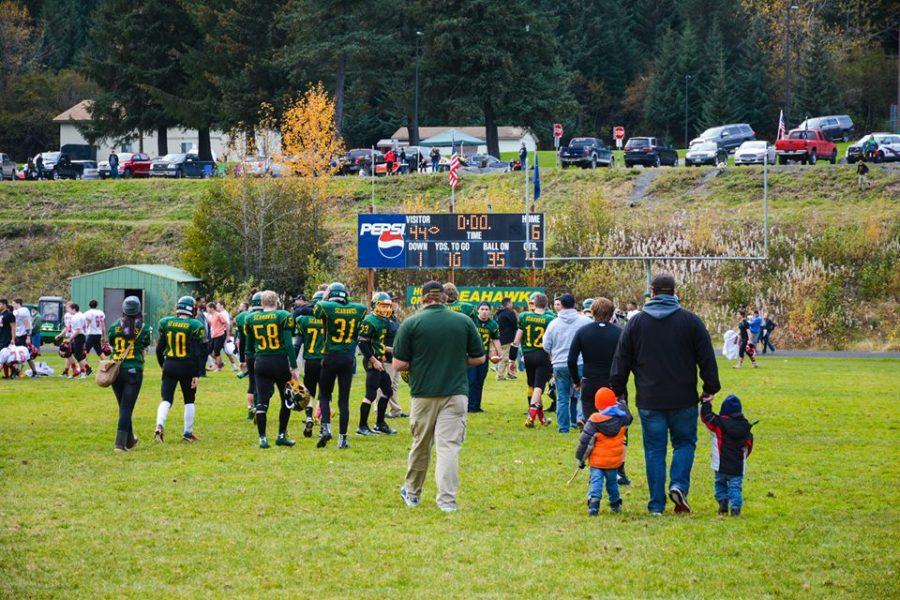 October 8th marked the last game for the Seward football season in 2016. A wave of emotion flooded all Seahawks as that last quarter ended, setting the final score as 44 to 6, Houston. The teams fought almost too hard, causing one player from the opposing side to be ejected. During the game, multiple penalties were received against both teams. The ending result was heartbreaking, but the phenomenal performance from each Seahawk player was undeniable. This team made history for Seward High by being granted the conference championship title for the first time since 2002.
One of the seniors, Nic Woodard, spent four years playing football for Seward. When reflecting on the past seasons, he claims in order to succeed, they had to work together. His favorite trip was when they traveled to Barrow in 2014. As a sophomore, he got to travel to a completely different climate and played a great game, earning the team a win.
As a senior, he got to participate in Senior Hit Day. This occurs on the last game of the season, and seniors choose one lower classman to "hit," symbolizing a change in leadership. Nic chose Chris Kingsland. Chris had been moved to different positions multiple times throughout the season. He performed well in every position, and Nic foresees younger players looking up to Chris during his next two years. To all the football players of future seasons, Nic's advice is to put in the work during the after-season, so it won't be something you're "regretting if you didn't."
They made conference champions as a team, but there were a few particular players who received their own rewards. For our defensive team, Nic Woodard received Second Team outside backer, and Rhett Sieverts was given First Team. For our inside backers, Michael Wilps placed in Second Team as Kris Hettick was honorably mentioned. Michael was also given Second Team punter. Two of our defensive backs, Ethan Schrock and Beau Freiberg, got Second Team, and Nik Pahno won First Team. Trenten Freiberg earned First Team for interior lineman. The coaches rewarded Brandon Lynch as a Second Team utility player.
As for our offensive team, Nik Pahno received an honorable mention as a quarterback. For halfbacks, Michael Wilps earned First Team and Beau Freiberg was honorably mentioned. Nic Woodard placed as Second Team fullback. Trenten Freiberg was given an honorable mention as a long-snapper. Rhett Sieverts got First Team for tight end. As for tackles, Ethan Schrock received Second Team. Trenten also received Second Team guard, and Kris Hettick got an honorable mention. Kjell Nilsson was given First Team center.
On October 8th, in a final huddle, the boys hoisted their helmets high for the last time during an emotional tribute to a successful season. Through every win and every loss, the team fought as one. Each player brought a unique contribution onto the field to create "Boom Squad." Nothing can beat the bond between the Seward Seahawk football team… not even Houston.