Delectable Delicacy? Or Fishy Failure?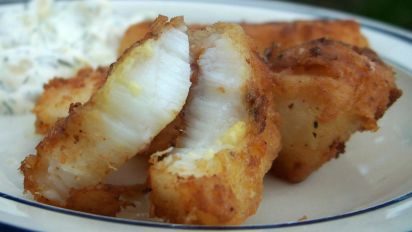 Due to a full freezer, I went in search of a scrumptious recipe for halibut. When you catch a 130-pound halibut hog, the taste will undoubtedly grow old if cooked the same way. I really enjoy this fried halibut. I hope you will too.
     First, obtain a fillet of halibut; next, cut the skin off with a razor-sharp knife. Third, slice the fillet into about one inch by two inch chunks. Next, dip in egg and roll in finely crushed Ritz crackers or saltines. (I personally think Ritz are much better.)
     Once you have completed the previous steps, heat a stainless-steel pan with one half inch of vegetable oil at medium temperature. If a pinch of crumbs dropped into the pan causes it to bubble slightly, the oil is hot enough to begin frying. Slide the crumb covered fillet chunks carefully off your plate or cutting board with a spatula into the oil. Put a lid on the pan. Let cook until browned, about ten minutes, then flip. Cook for approximately ten more minutes. 
     The fish chunks should have a golden brown color on all sides. Remove from the pan and let cool. Finally… enjoy. 
     I prefer my fish with zesty tartar sauce made by adding Adobo seasoning and cayenne pepper to regular tartar sauce. I hope you try this easy recipe. Happy Cooking!
*Beware of popping oil; it can cause burns.
Ingredients:
Halibut (I normally use two 4×6 fillets for 2-3 people.)
Ritz (1.5 packages)
3 eggs
3 cups vegetable oil (depending on pan size)
Salt and season to taste.
Featured image credit: https://www.food.com/recipe/secret-fried-halibut-303083.